Don't fall into the Halloween-treat trap! Stay out of the candy bowl and try these 5 recipes. They're seasonal and fun, but they also have the extra bonus of being healthy-diet friendly!
It's not hard to pack on an extra 10 pounds during the fall and holiday season. Halloween candy, Thanksgiving stuffing, Christmas mashed potatoes, and bottles of wine aren't exactly the right ingredients for a shredded six-pack. And once you start—"Another Twix? Don't mind if I do?"—it's easy to shrug off your diet plans and settle into an "I'll start up after the holidays" mindset.
With this in mind, those who are careful about what they eat can feel more anxious than excited about October, November, and December. Fortunately, with the right tweaks to traditional treats, you can still enjoy seasonal food.
These fun Halloween recipes will bring back childhood memories without the haunting guilt of added sugar and saturated fat. Bring them to a party, make them for your kids, or just enjoy them on your own. Either way, these recipes will certainly put you in the Halloween spirit!
1. Pudding Parfaits
At this time of year, trying to forgo your cravings for chocolate may feel like mission impossible. Instead of stealing candy from your kids, whip up this low-calorie pudding as a chocolatey snack.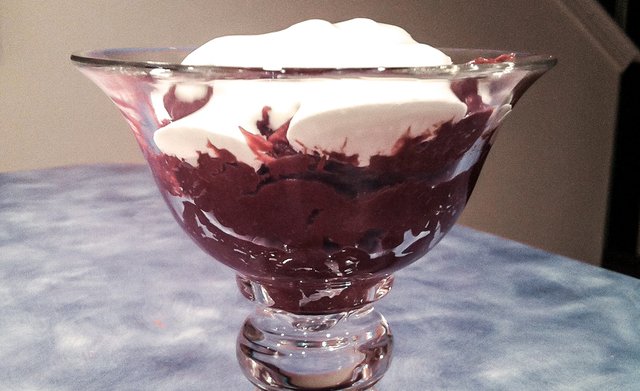 Ingredients
Chocolate pudding powder 1 scoop
Skim Milk 2 cups
Cookies and cream protein powder 1 scoop
Light whipped topping 1 cup
Orange Juice 1/4 cup
Directions
Beat together skim milk and pudding powder.
Once mixed, beat in protein powder.
When mixed, place in separate serving dishes.
In a separate bowl, combine whipped topping and orange juice.
Once fully mixed, spoon on top of each pudding serving.
Serve.
Nutrition Facts
Calories 211.4
Total Fat 4.65g
Total Carbs 28g
Protein 12.8g
2. Cheesy Pumpkins
This creamy snack is perfect for a Halloween party. Feel free to get creative with your pumpkins!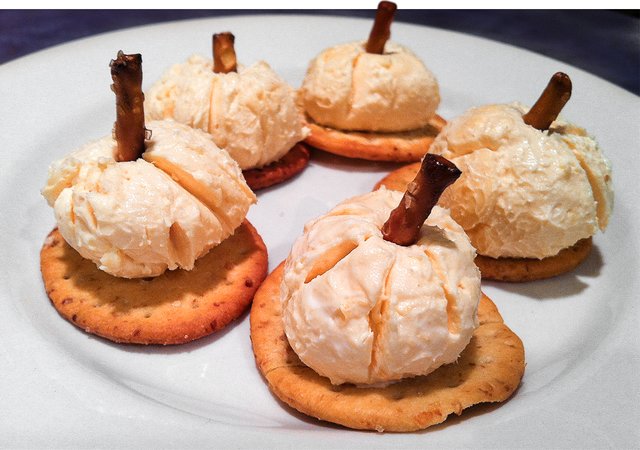 Ingredients
Fat free Cream cheese 8 oz
Low-fat cheddar cheese 1/4 cup shredded
Pretzel sticks 10
Whole grain crackers 10 whole
Directions
Heat cream cheese at medium heat until cheddar cheese has melted.
Place cheese in fridge and cool for at least one hour.
Once cool, form cheese into small balls and place on top of crackers.
With a toothpick, draw lines from top to bottom of the cheese balls to create grooves like a pumpkin has.
Stick half a pretzel stick on the top of the cheese balls to create the stem.
Place in fridge until ready to serve.
Nutrition Facts
Calories 78.6
Total Fat 1.54g
Total Carbs 5.57g
Protein 8.25g
3. Pumpkin Carrot Muffins
The pumpkin flavor gives these muffins the feel of the season, but the low-cal ingredients deliver solid nutrition. They're a great addition to Halloween festivities.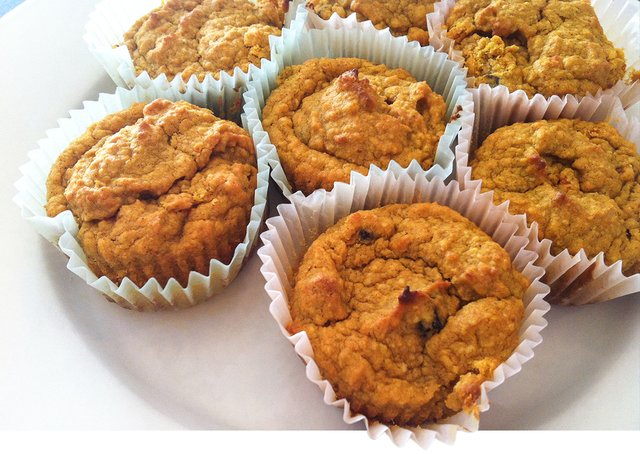 Ingredients
Almond flour 1 cup
oat flour 3/4 cup
Baking powder 2 tsp
Ground Cinnamon 1 tsp
Pumpkin spice 1/4 tsp
Whole egg 1
Agave syrup 1/4 cup
Pumpkin cooked 1/2 cup
Carrots cooked 1/2 cup
Raisins 1/4 cup
Skim Milk 1/2 cup
Coconut oil 1/3 cup
Directions
Heat oven to 400 degrees F.
Combine flours, baking powder, salt, cinnamon, and pumpkin spice.
In another bowl, mix egg, agave syrup, milk, raisins, and coconut oil.
Purée carrots and pumpkin together and then combine with wet ingredients.
Mix wet and dry ingredients and then pour batter into a non-stick muffin tin.
Bake for 15-18 minutes, or until toothpick comes out clean.
If desired, top muffins with fat-free cream cheese.
Nutrition Facts
Calories 182
Total Fat 5.6g
Total Carbs 17.34g
Protein 4.7g
4. Carrot Eyes
Need a low-cal, spooky treat? Try these carrot eyes. They only take a few minutes, but everyone will love them.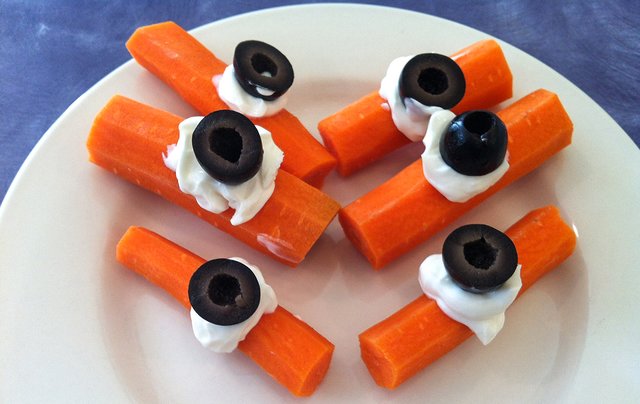 Ingredients
Carrot sticks 3 large wide
Greek yogurt 1/2 cup
dried cranberries 20
Directions
Peel carrots and cut them into inch-thick slices.
Top each carrot with a spoonful of Greek yogurt.
Place two dried cranberries on top of the yogurt to form eyes.
If preferred, use olives instead of cranberries.
Nutrition Facts
Calories 32
Total Fat 40mg
Total Carbs 4g
Protein 3.7g
5. Banana Coconut Ghosts
They're better for you than ice cream and they taste just as good! This ghostly treat will please kids and adults alike.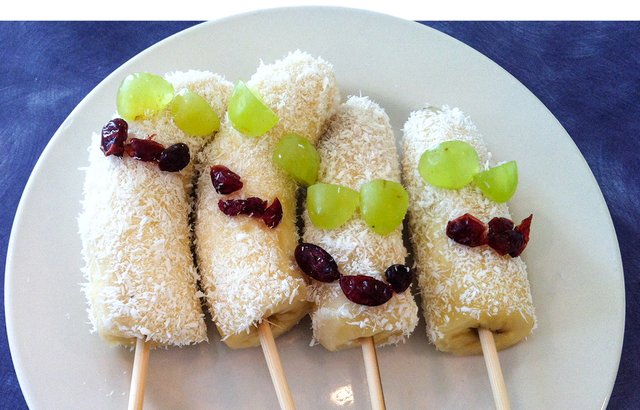 Ingredients
Large Bananas 2 ripe
Dried unsweetened coconut 1/4 cup
Coconut oil 1 tbsp
Grapes sliced in quarters 4
cranberries 8
Popsicle sticks 4
Directions
Peel bananas and cut into halves.
Stick Popsicle stick or toothpick into flat end of banana and place in freezer until firm.
Once firm, roll bananas in coconut oil and then roll in dried coconut flakes.
Lay coated bananas on a plate and use quartered grapes for the eyes and cranberries for the mouth.
Serve immediately
Nutrition Facts
Calories 159.5
Total Fat 10.5g
Total Carbs 18g
Protein 1.25g